You can track the status of your Play Octopus referrals through your Driver Dashboard! Follow the instructions below and keep track of your referrals:
Log on to your Driver Dashboard at: account.playoctopus.com
Click the three lines at the top of the dashboard, as seen below:
Click on the Referrals tab, as pictured below: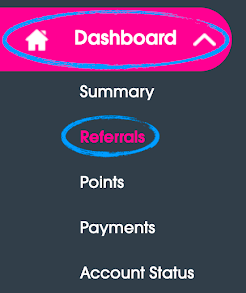 Once you click the Referrals tab, you will be able to track the status of your referrals, as seen below: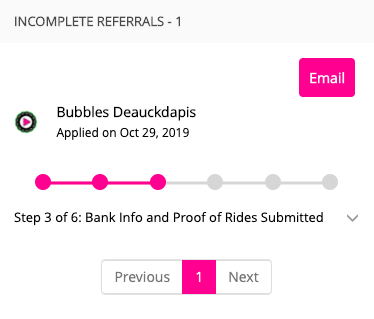 Your referrals will be at one the following stages of the application process:
Driver Waitlist: Your referral has been waitlisted as they are not currently driving in one of our active markets, or they do not meet our 100 trips per month requirement.
Driver Qualified: Your referral has completed the first stage of the application process, and has to log back into their account to continue their application.
Driver Agreement Completed: Your referral has signed our driver agreement, and just has to upload their payment information and/or proof of rides to complete their application.
Bank Info and Proof of Rides Submitted: Your referral has completed their application, and our application team is in the process of reviewing their account.
Tablet Delivered – Pending Activation: Your referral has received their tablet, and is all set to start driving with Octopus! Please note: To ensure your referral has received and properly activated their tablet, it is necessary for them to gain some points with Octopus before the referral bonus is paid out.
Tablet Activated: Your referral has started using their tablet, and you've earned a $25 referral bonus!