NOVUS Canada Launches Brand Extension – NOVUS EXTRA – with Premium Rideshare Entertainment Platform Octopus Interactive as First Partner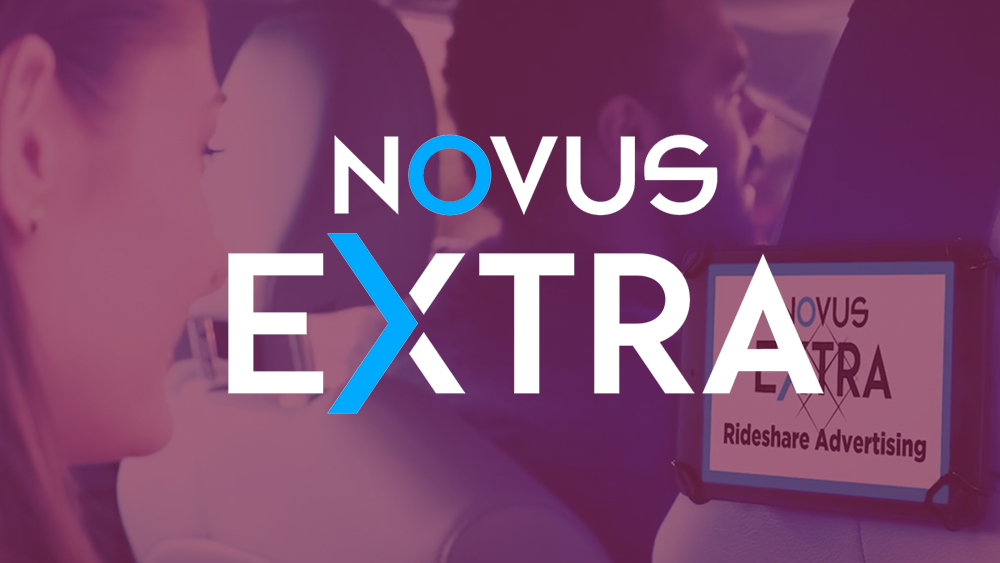 ---
TORONTO, July 15, 2020 –NOVUS Canada announced today that it has launched a brand extension, NOVUS EXTRA, and that the initiative's first partnership is with Octopus Interactive, the largest network of rideshare entertainment screens in the United States. The announcement was made today at DPAA's annual Video Everywhere Canada Summit.
NOVUS EXTRA will operate as a division of NOVUS Canada, offering clients exclusive opportunities to engage with consumers in new and exciting ways.
"We want to bring our clients dynamic new opportunities to reach consumers on a local, targeted basis," said Debbie Drutz, President, NOVUS Canada. "NOVUS was already one of the biggest buyers of out-of-home in Canada, but EXTRA is about taking that great scale and adding extra value for clients: Extra analytical horsepower in determining the most effective media outlets; extra opportunities for industry firsts; extra places and spaces that redefine what 'out-of-home' means in a dynamic consumer environment."
The NOVUS EXTRA-Octopus Interactive agreement provides exclusive rights for NOVUS to sell the Octopus ad network in Canada. The agreement will mark Octopus Interactive's expansion into Canada and will first go live in the Toronto market, with rollouts to follow in Montreal and Vancouver.
Octopus Interactive operates North America's largest network of interactive screens inside Uber and Lyft vehicles, enhancing the rideshare experience with games, cash prizes and other entertainment. For advertisers, millions of rideshare passengers a month engage with Octopus's network, putting brands front and center with geo-targeted, interactive video ads. For rideshare drivers, the platform increases tips, ratings and earnings per hour.
Octopus Interactive launched in 2018 and is now available in more than 15,000 rideshare vehicles, capturing more than one million rideshare passenger interactions every day. It has quickly built a stable advertising roster with some of the biggest brands looking to connect with consumers who are on the move.
Drutz said, "At NOVUS, we're always searching for new, interesting, effective and innovative out-of-home formats that we can present to our advertising partners and we've found it with Octopus Interactive. The ability for advertisers to have a 1:1 consumer experience via premium video inventory in a captive and growing environment like rideshare is a powerful opportunity for brands. In the wake of the "new normal," the capability to interact with the platform with your personal device makes the product that much more attractive. And Octopus Interactive supports brands with real-time metrics that show results and ROI. They are an ideal first partner for our NOVUS EXTRA brand extension."
Cherian Thomas, CEO and Co-founder of Octopus Interactive, said, "Octopus screens contain interactive games like trivia and photo hunt to capture the attention of the rideshare passenger. Since we get real-time vehicle location, we deliver the right ad at the right time to a highly sought-after millennial audience. We see engagement rates 2x to 7x higher than other ad-supported video publishers and are confident rideshare advertising will help brands in Canada reach audiences with equal impact. I can't think of a better partner than NOVUS as we enter this massive market opportunity. They are experts in out-of-home media and have exemplary relationships with the brands that can most benefit from our platform."
About Octopus Interactive (www.playoctopus.com)
Octopus Interactive is the largest network of rideshare screens throughout the United States. Octopus provides advertisers the opportunity to reach a captive and engaged audience through our location-based interactive video platform. Our drivers receive cash earnings, better tips and improved ratings by enhancing the customer experience for riders.
LinkedIn: www.linkedin.com/company/play-octopus/
Instagram: @playoctopus
About NOVUS (www.novusmedia.com)
Fueled by the same marketing science and geospatial analytics that made them one of the largest print buyers in North America, NOVUS offers hyper local, customized, multichannel media programs, strategic planning, data and analytics and marketing services to advertisers and agencies across all major industries.