Octopus Platform Update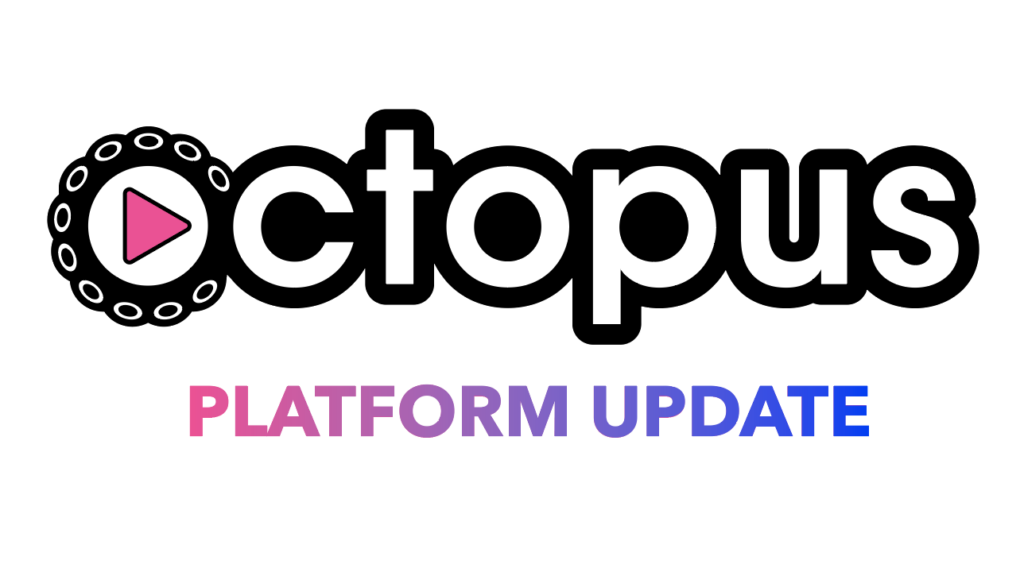 ---
August 10th, 2020
Greetings and welcome to an August 2020 update on the Octopus platform. Despite seeing pandemic-related declines in ridership and engagement throughout Q2, we are now seeing solid recoveries in Q3. Please read on for more details and always feel free to reach out with questions to Kyle Roll, our Director of Marketing at kyle.roll@playoctopus.com
Rideshare & Driving Activity
Octopus rideshare activity remains down about 65% from pre-pandemic levels, slightly better than rideshare industry averages given that we only partner with seasoned, high-volume drivers. Currently, the overall active driver base is down 50% from expected levels but we are seeing a steady increase in demand week over week as more drivers return to the road and large markets like New York ease Covid-19 restrictions. Each of our active drivers is driving about 25% less than pre-pandemic hours each month.
The drop in rideshare activity has negatively impacted weekends more than weekdays. As such, business riders are now relatively more prevalent than social riders. Nearly two-thirds of riders consider themselves "essential workers". The average rider age has gone from 34 to 32 years old, with a spike in riders aged 21 to 35 years old (43% of our rider base pre-pandemic, and currently 63% of our rider base) and commensurate drop in riders under 21 years old and above 50 years old.
Rideshare is down universally across all markets, with East Coast cities seeing a more significant rebound into August, likely due to their steeper decline in the earlier months of the pandemic. Since the floor in April, we've seen 4 consecutive months of rideshare gains and expect this to continue to increase in markets showing <2% coronavirus test positivity rates and entering later phases of reopening that include open offices and open restaurants/bars. A boost in air travel will also help in rideshare's recovery as it is often accompanied with multiple rides. Although, such state-to-state travel will likely lag behind state reopenings and only return when national positivity rates are <2% or a vaccine is released.
We believe that rideshare will experience unprecedented growth in the post-pandemic world, as travelers will be hesitant to use mass transit well into the future, perceiving private vehicle transportation as a safer alternative. This observation is backed up by the latest data. In New York City, public transportation ridership during the first week of August was down 80%. With our rideshare activity down 65% we are seeing a faster demand recovery in rideshare than public transit. To further fuel a rideshare rebound, Uber has begun offering generous incentives to get drivers back onto the road in Q3 (Q2 Earnings Call here). We are seeing advertisers consider incremental shifts from linear spend to rideshare advertising. Given the pandemic, the rideshare audience is comprised of 2/3 essential workers and an overall younger demographic. Marketers realize our rideshare audience is willing/able to "adventure out" having left their homes, entered a shared vehicle, and considerably more likely to visit an essential or newly re-opened business.
As a direct response to COVID-19 Octopus has donated more than 1,000 masks to our drivers, conducted multiple pandemic relief webinars featuring expert transportation lawyers and top drivers, and made more than 5,000 calls to our drivers to simply ask, "how are you?" We have donated more than 5 million free impressions for PSAs and created touchless gaming experiences for riders.
Tablet Engagement
Before the pandemic, 30%-40% of our riders interacted with the tablet in some way depending on the day of the week. That dropped by about half to a floor of 18% in April and has since rebounded for four consecutive months, aided by advertisers beginning to re-activate campaigns. For example, a popular client survey had a pre-pandemic click-through rate of 3%, which dropped to 1.8% in May. A new client campaign kicked off in late July and is seeing a 2.85% click rate across its various creative content.
Our game engagement metrics have improved by 10% – 15% per month since April and we expect this trend to accelerate as we introduce touchless solutions, such as our new trivia game and wider adoption of QR codes. While weekend ridership has been slower to recover, we expect engagement to trend upward in tandem with the reopening of restaurants and bars.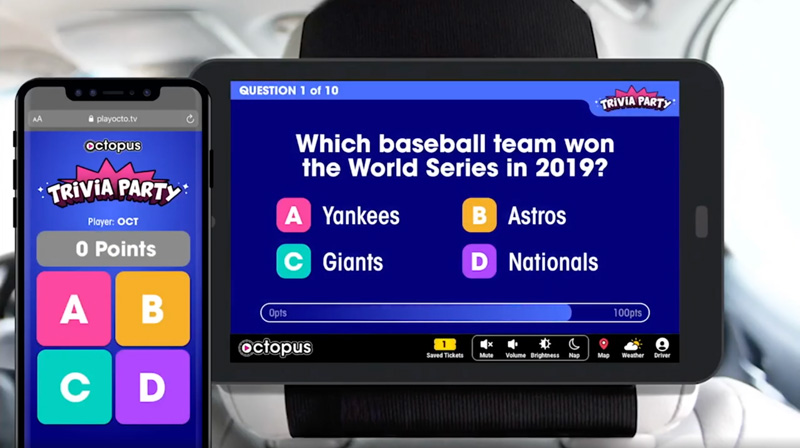 Our riders represent a fairly risk-tolerant population, as they must emerge in public to hail a ride, open the car door, and buckle up. The current rideshare audience is a particularly attractive demographic for our advertisers as they are the segment of the population that is going out and spending money. Although our drivers reported in April that some riders were reluctant to touch Octopus screens, this sentiment has subsided along with general fears of surface contamination/contraction. Uber and Lyft have also made many enhancements to make rides safer, including requiring masks for both drivers and riders (enforced for drivers with camera verification and publicized with No Mask, No Ride campaign), donating Clorox wipes to drivers, and distributing free vehicle partitions (the Octopus tablet is mounted on the backseat side of the partition in this case).