Desplácese hacia abajo para Español
We've updated our security standards! We're asking that all drivers update their password by the end of August. See the instructions below for how to update your password in less than one minute:
Log out from your Driver Dashboard. The password reset link won't work if you are still logged in!
Click the button below or visit account.playoctopus.com/reset and enter the email you used to sign up for Octopus.
Our system will then send you an email with a link to reset your password, as pictured below: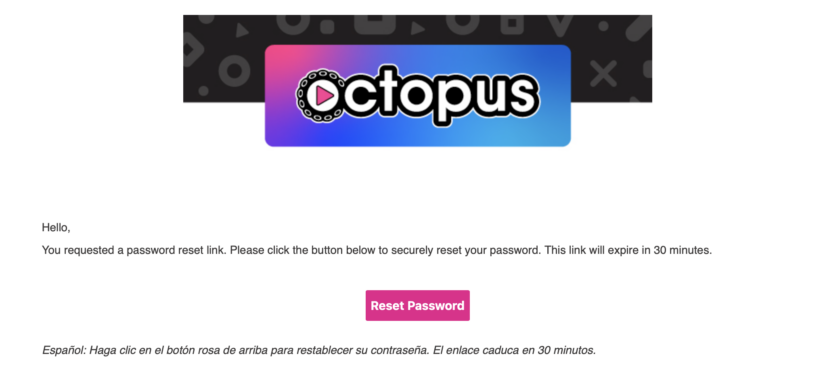 Your new password needs to meet the below requirements:
Be at least 8 characters long
Contain at least one letter and one number
If you don't receive the password reset email or run into problems resetting your password, please complete these quick troubleshooting steps:
Check your spam or junk mail folder
Please check your spam or junk mail folder for an email from Octopus with the subject line: "Password reset requested."
Verify that you are inputting the correct email
If you previously started an Octopus application with a different email or use multiple email addresses, please double-check that you are sending the password reset email to the email address that you used to sign up for Octopus.
If you forgot the email you used to sign up for Octopus, we recommend checking this by seeing what email address received an email from Octopus most recently.
Ensure that you are using the most recent password reset email from Octopus
The link in the password reset email becomes invalid if a new reset email is requested. If you accidentally request a password reset email more than once, please use the reset link in the email you received most recently.
If you aren't able to reset your password using the steps above, please contact support using the form below.
Español
¡Hemos actualizado nuestros estándares de seguridad! Estamos pidiendo que todos los conductores actualicen su contraseña para fines de Agosto. Consulte las instrucciones a continuación para saber cómo actualizar su contraseña en menos de un minuto:
Salga de su tablero del conductor. ¡El enlace de restablecimiento de contraseña no funcionará si todavía está conectado!
Haga clic en el botón a continuación o visite account.playoctopus.com/reset e ingrese el correo electrónico que usó para registrarse en Octopus.
Nuestro sistema le enviará un correo electrónico con un enlace para restablecer su contraseña, como se muestra a continuación: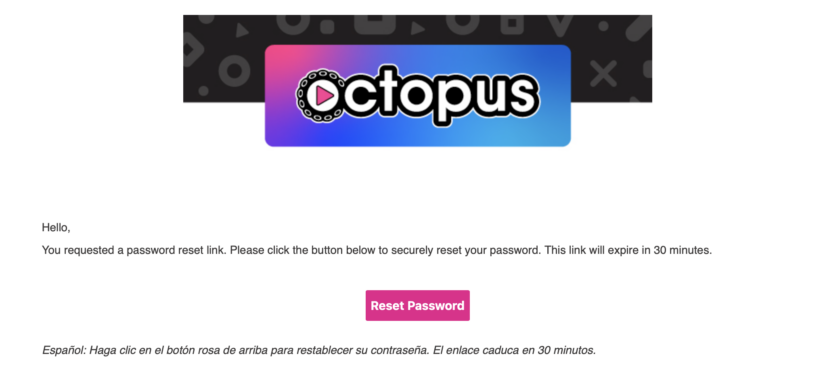 Su nueva contraseña debe cumplir con los siguientes requisitos:
Tener al menos 8 caracteres
Contener al menos una letra y un número
Si no recibe el correo electrónico de restablecimiento de contraseña o tiene problemas para restablecer su contraseña, complete estos pasos rápidos de solución de problemas:
Revisa su carpeta de spam o correo no deseado
Verifique que esté ingresando el correo electrónico correcto
Asegúrese de estar utilizando el correo electrónico de restablecimiento de contraseña más reciente de Octopus
Si no puede restablecer su contraseña siguiendo los pasos anteriores, comuníquese con soporte utilizando el formulario a continuación.