When you cash out $550 in your partnership with Octopus, you will be asked to submit your SSN information on your Driver Dashboard to continue cashing out. You may be asked for this information for one of the below reasons:
Our payment provider is required by the federal government to verify all driver identities using a Social Security Number when a driver cashes out $550 or more in their lifetime with Octopus. You can learn more about this federal regulation here: https://support.stripe.com/questions/date-of-birth-and-social-security-number-%28ssn%29-requirement-for-us-stripe-accounts
If you cash out more than $600 in a calendar year with Octopus, we will use your SSN to send you a 1099 tax form for your Octopus earnings. We will only send you a 1099 tax form if you cash out $600 or more within a calendar year and provided your SSN.
Submitting your SSN is as easy as 1,2,3! If you are asked to provide your SSN information, please complete the below:
Complete the form with your information exactly as it is on file with the IRS. After you submit the required information, select Submit to upload your information.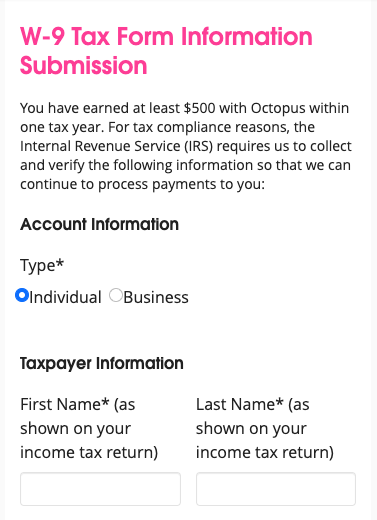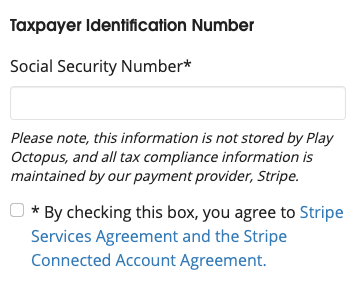 After your information is provided, cash outs should be resumed within 24 hours. If your payouts are not resumed automatically after 24 hours, please contact our support team using the form below for further assistance.