Video Instructions:
Text Instructions:
Cashing out with Octopus is easy! Please follow the instructions below to cash out any outstanding earnings from your Driver Dashboard:
Log on to your driver dashboard at account.playoctopus.com
Click the three lines at the top of the dashboard, as seen below:
Next, click on the Dashboard button on the left side of the screen and the Payments link to see if you have an available cash out: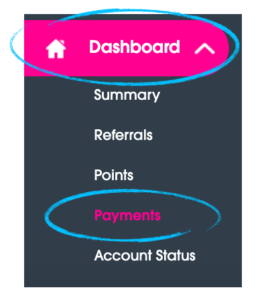 If you have a cash out available, click the pink CASH OUT button next to the payment you would like to receive. The cash out will arrive to your linked account within 3-5 business days.

Please note: Payments will not be automatically deposited to your linked account with Octopus. It is necessary to cash out your earnings manually. You may also let your payments accumulate in your account, however, please note there is a $100 daily maximum cash out.
RELATED ARTICLES: