Welcome to Octopus!
Online driver manual continues below. Version en español abajo.
What can we help with?
---
---
---
---
Tablet Set Up
Without Plastic Partition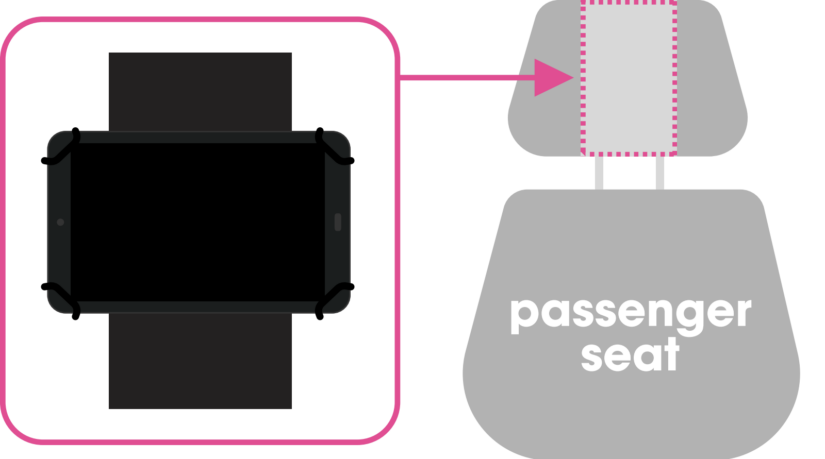 Step 1: Fasten mount to the passenger headrest with clips facing backseat.
With Plastic Partition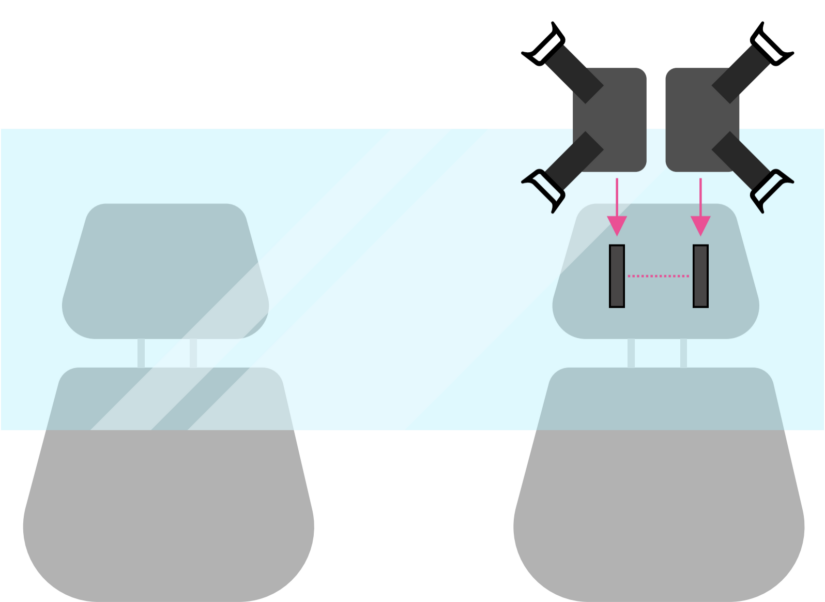 Step 1: Using the velcro strips, fasten tablet clips to the partition 2-6 inches apart and at eye level.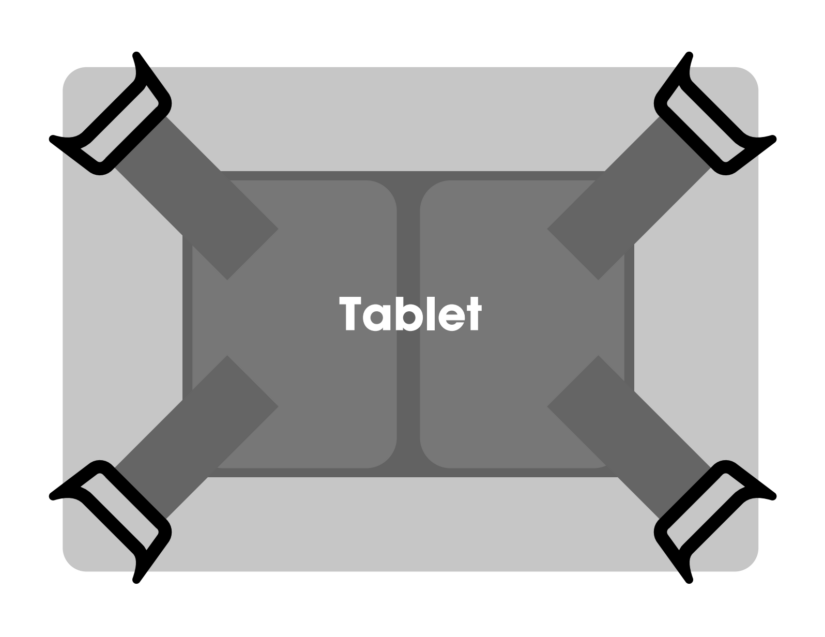 Step 2: Secure tablet in corner clips by stretching clips to all four corners.
Step 3: Plug cable into tablet; wrap cable up and around tablet, with excess cable placed between mount and device. Plug cable into USB port.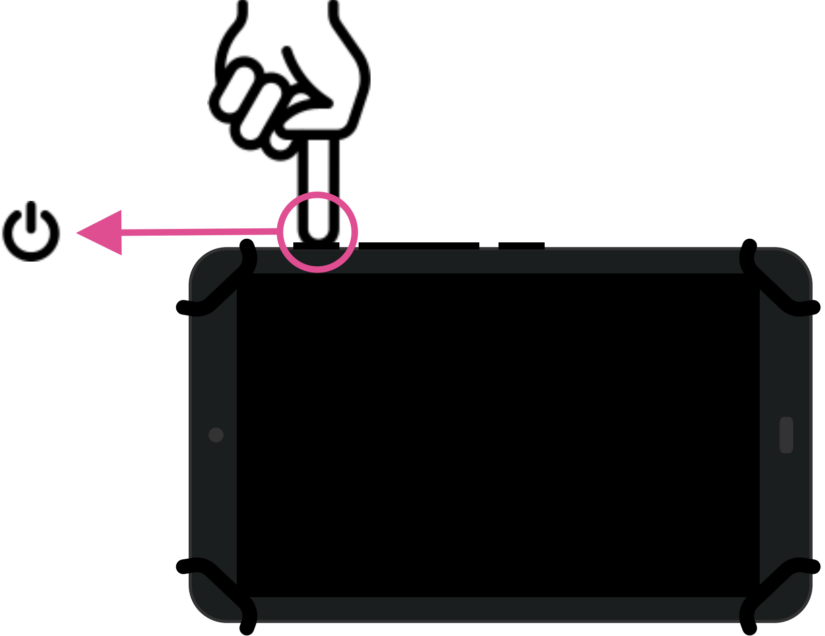 Step 4: Hold Power Button down for 5-10 seconds to turn on the tablet.
*If tablet update initiates, see Tablet Software Updates for instructions
---
Operating Your Tablet
Powering On Your Tablet
Press and hold the power button for 5-10 seconds.
Please note: When your tablet is off, it cannot record activity and you will not accumulate driver points.
To power off your tablet, hold down the power button until you see a "Power Off" option. On certain devices, it may be necessary to hold the power button for 10-15 seconds for the prompt to appear.
Nap Mode
Nap mode enables your passengers to temporarily dim the screen and mute the volume while they are in the vehicle. If a passenger wants to turn the tablet off, tell them to simply tap the moon icon at the bottom of the screen.
Volume & Brightness
Adjust tablet volume and brightness from the bottom of the screen, or use the buttons on the top of the tablet to control while in the front seat.
Your tablet will enter sleep mode and show a black screen if your vehicle doesn't move for 10+ minutes. Once you start driving again or tap the screen, the tablet will leave sleep mode if the battery is charged.
*If you or a passenger accidentally exits the Octopus app or something still seems wrong, contact support at: www.playoctopus.com/help/
---
Tablet Software Updates
Periodically, your tablet will receive an update. Please follow the steps below to ensure you are on the latest version.
Step 1: Update begins
Step 2: Tap "INSTALL"
Step 3: Wait for install to complete
Step 4: Hit "ALLOW" if prompted
Step 5: Tap "OPEN"
*Need help? Get in touch by emailing contact@playoctopus.com, calling 240-366-5877 (Monday-Friday), or visiting playoctopus.com/help.
---
What's In It For Your Passengers!
Free Games
Riders select FREE games from the home screen to enjoy during the ride! Passengers do not have to register or provide any information.
Promotions & Discounts
Enjoy free offers and discounts from Octopus partners between games.
Free Prizes
Riders who win daily high scores earn free Amazon gift cards. Note: prizes are only for riders!
Driver Profile
Riders can learn more about you from your driver profile, helping to enhance your conversations.
Adjustable Settings
Change the volume, put the tablet into nap mode, or see the weather from the tablet control panel.
Have Fun
Riders enjoy an overall unique gaming experience — in return we hope you see better tips, reviews, laughter, and conversations!
---
Driver Dashboard
Track your payouts, points and referrals from our mobile-friendly website. Driver Dashboard updates twice per day (once in the morning, once in the evening).
Points
Every estimated passenger trip you give earns you 1 point (we estimate trips using GPS). Each game played by a passenger earns you 1/2 point. The more you drive and the more your passengers play, the quicker you earn cash.
Referrals
Get $25 for every eligible rideshare driver that signs up with your referral code and starts driving with the tablet. Track referrals' progress and request more referral cards from the "Referrals" tab.
Payouts
Cash out every time you reach 250 points.
Offers
Get special offers, discounts, and perks exclusively for Octopus drivers.
Account Status
Taking a break from driving? Let us know when you will be away under the "Account Status" tab to avoid inactivity notifications and account issues.
*Our points and payouts system is provided at Octopus's discretion and may change in the future.
Driver Dashboard
---
How To Get Paid
We give you 1 point for each estimated trip you complete with your tablet on (estimated using tablet GPS) and 1/2 point for every game that your passengers play. When you reach 250 points, we give you a $25 payout. Cashing out your earnings from Octopus is as easy as 1, 2, 3!
Step 1: Log in to your Driver Dashboard at account.playoctopus.com and click the Payments tab.
Step 2: Ensure that your payments will be sent to the right account by checking the Primary Card field*.
Step 3: Hit "ALLOW" if prompted If you have a pending payment, click the Cash Out button to send the payment to your card or account on file, or the Gift Cards button to cash out to a gift card of your choosing. After you click Cash Out, your payment will arrive in 3-5 days.
---
Driver Community
Welcome to our exclusive Octopus community. We work to create a unified rideshare culture, connecting like-minded drivers from all over North America that want to offer the best amenities in their vehicles. Join us on Facebook, display your Octopus window cling on your ride, and post your Octopus driver sign to connect with other drivers and passengers.
Our Private Driver Facebook Community
Join our exclusive drivers-only Facebook group for content and promotions like:
Driver of the Month
Theme Weeks
Cash & Prize Giveaways
Exclusive Offers
Informational Webinars
Conversations with Like-Minded Drivers
The Octopus Facebook group is for fun, respectful and helpful "water-cooler" discussions with fellow drivers. Our team cannot respond to personal questions or support requests on Facebook.
Octopus Driver Sign
Display your sign near your tablet to encourage passengers to play. You can display your sign in whatever way is best for your car.
---
PERKS: Badges, Rewards & More
Exclusive Badges
Earn fun badges for your driver profile when you hit driving milestones or your passengers win prizes on your tablet.
Milestone Rewards
As a token of appreciation of your loyalty, receive exclusive gifts as you reach Octopus milestones: 1K points, 5K points, and 10K points.
Free Replacement Parts
Get free replacement charging equipment and other accessories at any time to help keep your tablet running: playoctopus.com/help/equipment/
---
Taking a Break From Driving?
We know drivers may need to take time off the road. If you plan on taking a break from driving, you may put the 100-trip-per-month requirement on hold* by completing the following steps:
*Please Note: Even when your account is paused, you will still earn points when driving.
Click on the "Account Status" tab
Set the date when you will be back to driving!
---
If you have any other questions, please let us know by submitting a support ticket below: