Click on the My Account button on the left side of the screen and then Payment Details, as seen below: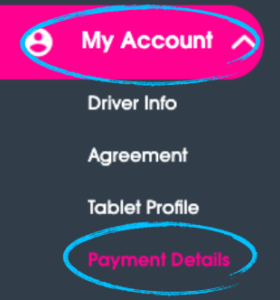 Finally, click (edit here) next to Need to edit your Card/Account? to update your payment details, as seen below:

Please note: New Card/Account uploads may take up to 30 minutes to process. Please allow 30 minutes after uploading a new Card/Account before attempting to cash out.
Both US and Canada driver partners can find information on debit Instant Payouts, and the list of banks that support this feature at the following link: https://stripe.com/docs/payouts/instant-payouts-banks
RELATED ARTICLES: