Today, we are putting the SHARE in Rideshare.
Octopus LOVES paying out driver referral bonuses! To us, it means that the new drivers joining Octopus are more likely to be educated and informed about the tablet, plus trusting of our company overall. And with more quality drivers in our network, bigger and better partnerships can become available for everyone. In short, Driver Referrals are our bread and butter for healthy community growth.
And since that is the case, we want ALL of our driver partners to be experts at signing up new ones to receive a tablet. Throughout today, we will be sharing tips & tricks for fine tuning your referral effort and maximizing your bonus earnings.
Did You Know?
Octopus partners get paid for signing up new drivers to Octopus, and there is no limit to how much you can earn. Plus, through our OctoPro tiered referral system, as you convince more drivers to join the platform, the bonus payouts increase!
More Info: Octopus Driver Referrals | Play Octopus
Pro Tip
Letting drivers know how fun and inclusive the Octopus community is goes a LONG way to convincing a wary driver that we are legit. Show/post some of these great highlight videos of past events and engagements Octopus has hosted with drivers over the years to convince your referrals to join in!
More Info:
Did You Know?
On your Octopus Driver Dashboard, you can see how far along your pending referrals are from being eligible for you to receive a cash bonus? Plus, you can contact your referrals directly to encourage them to complete their application (or activate their account). A friendly reminder may help reinvigorate a stalled applicant.
More Info: How can I track the status of my referrals? | Play Octopus
Pro Tip
If any of your potential new driver account statuses are listed as "Pending Activation", it means they have simply not yet reached the minimum activity threshold for their account to be recognized as "Active" in our system; encourage these folks to drive JUST a bit more with the tablet ON for you to receive credit. Their contact info is provided for YOU on your own Octopus Driver Dashboard: account.playoctopus.com
More Info: My referral bonus is not showing up. | Play Octopus
Did You Know?
There is no limit to how many referral cards you can receive. You should always be prepared to sign up a new driver for Octopus. Stock up on referral cards by requesting more from your Driver Dashboard under the Referrals tab.
OR just click the link here: https://playoctopus.com/help/referral-cards/
Pro Tip
Are you wondering why your referrals are not being approved for Octopus, even though they claim they have finished their application? There is a likely chance the problem is that their "proof of rides" driver logs screenshots are invalid. Encourage them to search their email inbox for an explanation of what is still needed by our team to approve them for a tablet.
Some common issues include:
logs were unclear and did not show proof of required ride total
logs could not be verified with driver identity
logs do not show regular, consistent driving for rideshare
Check out this helpful video to know exactly what our team is looking for: How To – Upload Logs
Pro Tip
Sometimes potential driver referrals are skeptical about signing up. A good way to lower their walls is to show off your own earnings with Octopus. Posting a screenshot of your cashouts might help show that there are real payments and benefits to having the tablet.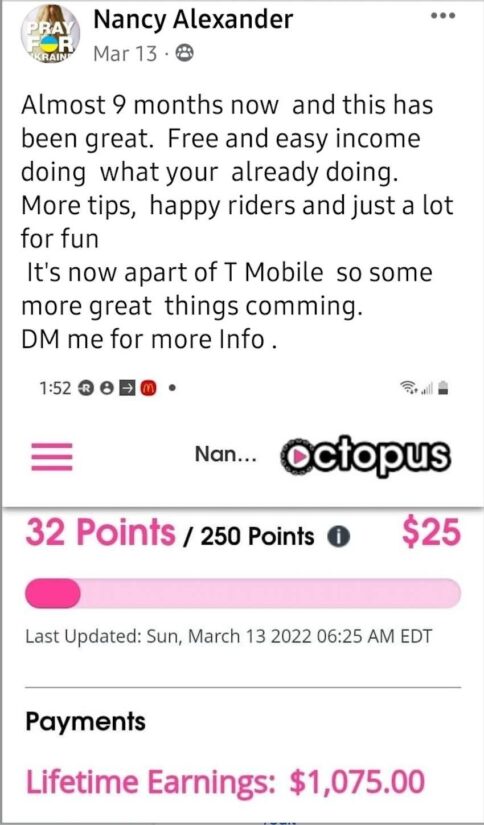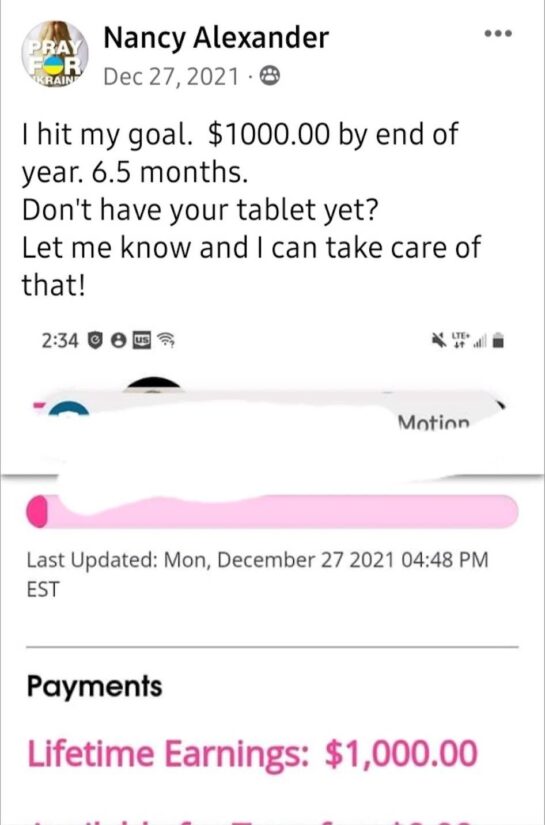 Did You Know?
Being an OctoPro, you can achieve a higher status and earn more money for each referral. Plus, there are cash bonuses every time you level up. Find out the benefits of setting a goal to rise up the ranks of being a top-tier OctoPro!
More Info: What benefits can I earn by referring other drivers to Octopus with the OctoPro Referral Program? | Play Octopus
*Note: Drivers who signed up before we expanded to all 50 states will be contacted by Octopus soon with details on how they can finish their applications. Don't worry – you will still get credit for these referrals once they complete their applications!
Día de Referidos 2023: Consejos Profesionales de Octopus
¡A Octopus LE ENCANTA pagar bonificaciones de referidos a sus conductores! Para nosotros, significa que es más probable que los nuevos conductores que se unan a Octopus estén educados e informados sobre la tableta,de que confíen en nuestra empresa y ademas con más conductores de calidad en nuestra red, grandes y mejores alianzas pueden estar disponibles para todos. En resumen, los conductores referidos son nuestro pan y mantequilla para el crecimiento saludable de la comunidad.
Y dado que ese es el caso, queremos que TODOS nuestros conductores sean expertos en registrar nuevos conductores para recibir una tableta. A lo largo de hoy, compartiremos consejos y trucos para mejorar su esfuerzo y maximizar sus ganancias de bonificación.
¿Sabía que?
A los conductores de Octopus se les paga por registrar nuevos conductores, y no hay límite de cuánto pueden ganar. Además, a través de nuestro sistema de referencia por niveles OctoPro, a medida que usted convence a más conductores para que se unan a la plataforma, ¡los pagos de bonificación aumentan!
Octopus Driver Referrals | Play Octopus
Consejo profesional
Permitir que los conductores sepan lo divertida e inclusiva que es la comunidad Octopus contribuye MUCHO a convencer a un conductor preocupado de que somos legítimos. Muestre/publique algunos de estos excelentes videos destacados de eventos y reuniones pasadas que Octopus ha organizado con conductores a lo largo de los años para convencer a sus referencias de que se unan.
¿Sabía que?
En su tablero de conductor de Octopus, puede ver el estado de sus referencias pendientes y chequear que tan cerca esta de recibir su bon. Además, puede contactar a sus referidos directamente para alentarlos a completar su solicitud (o activar su cuenta). Un recordatorio amistoso puede ayudar a revitalizar a un referido estancado.
How can I track the status of my referrals? | Play Octopus  
Consejo profesional
Si alguno de los posibles estados de su cuenta de conductor nuevo aparece como "Activación pendiente", significa que simplemente aún no ha alcanzado el mínimo de actividad para que su cuenta sea reconocida como "Activa" en nuestro sistema; anime a estas personas a conducir SOLO un poco más con la tableta ENCENDIDA para que usted reciba crédito. Su información de contacto se proporciona para USTED en su propio panel de control de Octopus: account.playoctopus.com
My referral bonus is not showing up. | Play Octopus
¿Sabía que?
No hay límite en la cantidad de tarjetas de recomendación que puede recibir. Siempre debe estar preparado para registrar un nuevo conductor para Octopus. Puede abastecerse de tarjetas de referencia solicitando más desde su tablero del conductor en la pestaña Referencias.
O simplemente haga clic en el enlace aquí: https://playoctopus.com/help/referral-cards/
Consejo profesional
¿Se pregunta por qué no se aprueban sus referencias para Octopus, aunque afirman que han terminado su solicitud? Existe la posibilidad de que el problema sea que las capturas de pantalla de los registros de "prueba de viajes" no sean válidas. Anímelos a buscar en su bandeja de entrada de correo electrónico una explicación de lo que nuestro equipo aún necesita para aprobarlos para una tableta.
Algunos problemas comunes incluyen:
los registros no estaban claros y no mostraban el total de viajes requerido
los registros no se pudieron verificar con la identidad del conductor
los registros no muestran una conducción regular y constante para viajes compartidos
Mire este video útil para saber exactamente lo que nuestro equipo está buscando: Cómo – Cargar registros
Consejo profesional
A veces, las referencias de conductores potenciales se muestran escépticas acerca de registrarse. Una buena forma de bajar esa incredulidad es presumir de sus propias ganancias con Octopus. Publicar una captura de pantalla de sus retiros podría ayudar a mostrar que hay pagos y beneficios reales por tener la tableta.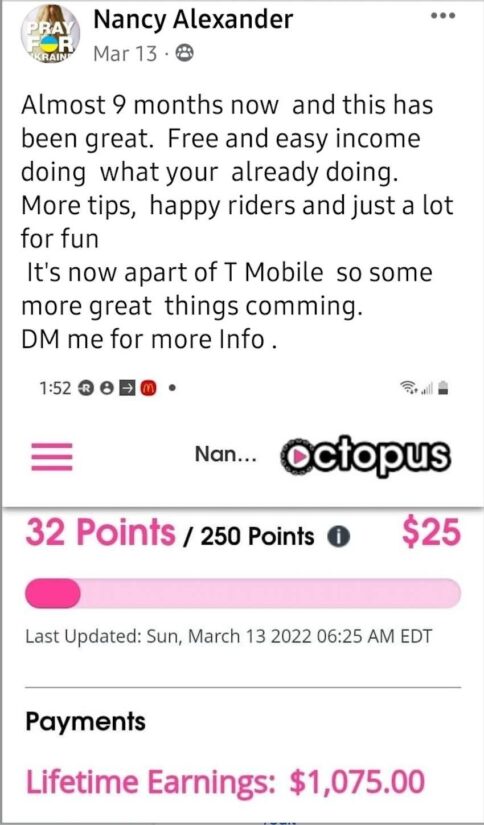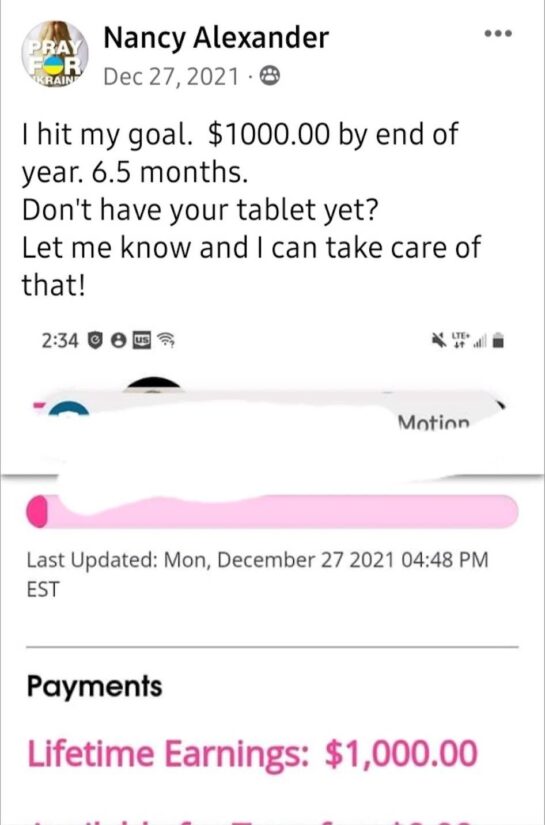 ¿Sabía que?
Al ser un OctoPro, puede alcanzar un estado más alto y ganar más dinero por cada referencia. Además, hay bonos en efectivo cada vez que sube de nivel. ¡Descubra los beneficios de establecer una meta para ascender en las filas de ser un OctoPro de primer nivel!
What benefits can I earn by referring other drivers to Octopus with the OctoPro Referral Program? | Play Octopus